CCK Consolidated Holdings Berhad ("CCK") was established on 5th August 1996 as an investment holding company and was listed on the Second Board of the Kuala Lumpur Stock Exchange on 10th December 1997. CCK Group is the collective name for CCK and its subsidiaries, with the principal activities of poultry and retailing. The businesses are carried out primarily in Sarawak, Sabah and Indonesia (Jakarta and Pontianak).
The fully integrated supply chain consists of feedmill, breeder farms, hatchery, broiler farms, layer farm, abattoir and retail stores. Our poultry abattoir is fully equipped with coldstorage facilities and full logistics set-up. The poultry division is well-equipped with the latest breeding farm technologies, computer-controlled hatching chambers and automated abattoir, capable of processing over 30,000 birds per day.
Our abattoir is the only poultry abattoir in Sarawak with a HACCP certification from the Malaysian Government, thus poised to supply both domestic and international consumers with good wholesome chicken meat economically. We are awarded the Certificates of Authentication Halal by the Islamic Majlis Islam Sarawak, and Veterinary Health Mark by Jabatan Perkhidmatan Veterinar (Ministry of Agriculture And Agro-Based Industry Malaysia).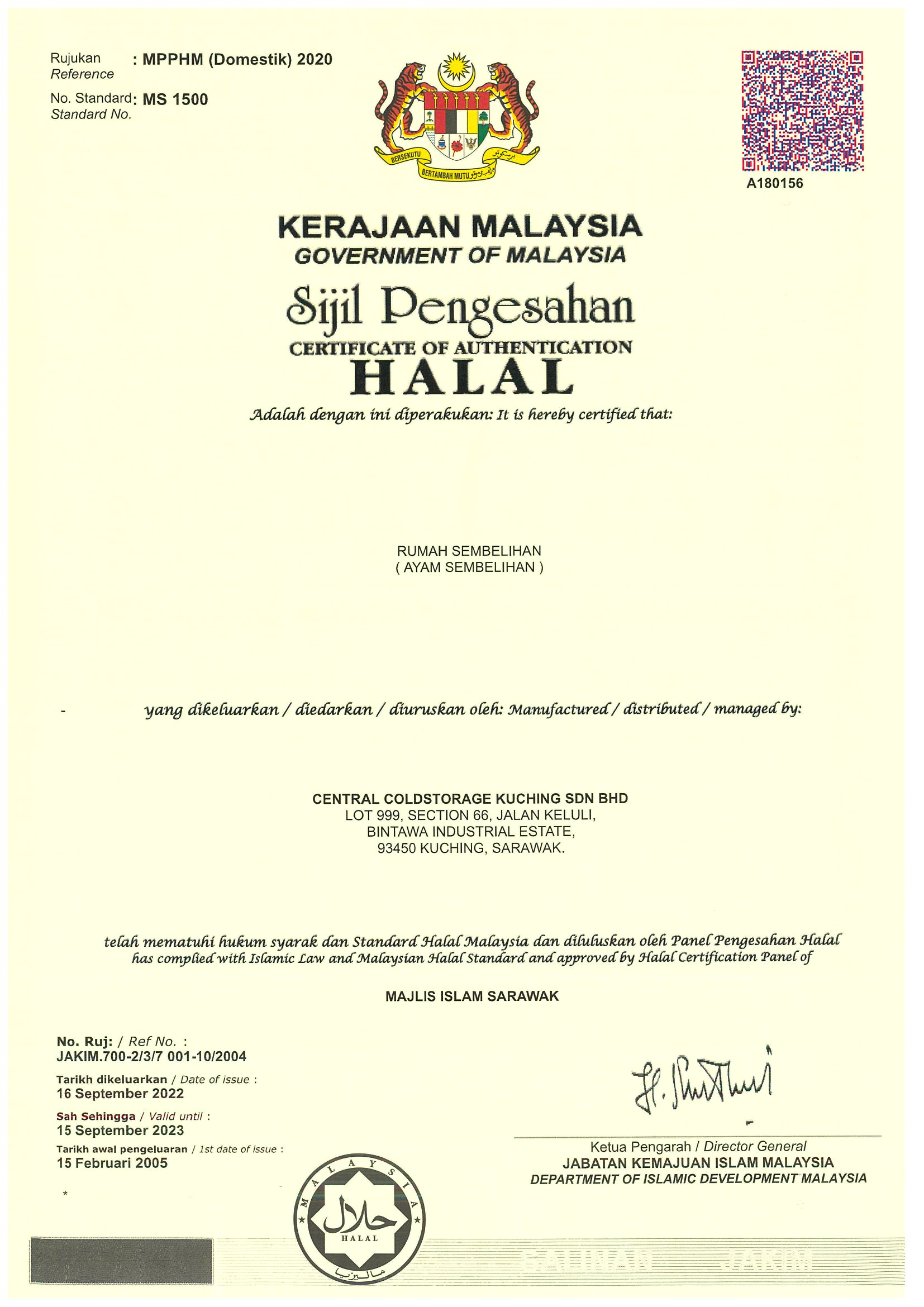 Certificates of Authentication Halal
Veterinary Health Mark
We have 69 wholesale and retail stores throughout Sabah and Sarawak.
CCK also involves in prawn agriculture and prawn processing, largely for export. Our aquaculture farms cover an area of over 200 acres and there are approximately 45 ponds in operation using the latest farming technologies and probotics to ensure environmental friendly. Our prawn factories are also HACCP certified, and process both cook-and-peel and IQF prawns. The IQF process technology is the latest technology available in Sarawak and is able to produce approximately 300 kgs prawns per hour.
Our prawns are graded according to the strictest quality standards and are exported globally to Australia, Hong Kong, Japan, Dubai, Vietnam, and Indonesia.
Led by our visionary and progressive founder, Tan Sri Datuk Tiong Su Kouk, the Chairman of CCK, our dedicated team has been spearheading the development for the past 11 years.
Throughout the year, CCK Group has experienced dynamic growth and is fully committed towards expanding its presence throughout Malaysia to supply quality fresh and frozen food products in the region.
CCK Group continues to upgrade its production capacities and increase its product range in quest to become one of the largest integrated poultry producers in the region.